Microreader™ 20 Direct ID System
Microreader™ 20 Direct ID System (MR20) is a 5-dye multiplex assay for short tandem repeats (STRs) that enables multiplex amplification of the 13 STR loci recommended for inclusion by the CODIS Core Loci Working Group, as well as 6 additional autosomal STRs (Penta D, Penta E, D6S1043, D12S391, D12S1338, D19S433) and one gender markers (Amelogenin).
Fast and efficient
MR20 enables the direct amplification of blood /saliva spot samples on filter paper and FTA™ paper without the need for extraction or purification. In addition, efficient protocols minimize amplification time compared to previous-generation kits.
Wide range of applications
20D includes 19 loci that combines maximum compatibility with the specification of biological full sibling testing (SF/Z JD0105002-2014).
Wide applicability
MR20 employs a direct amplification workflow from these common sample types used in paternity testing: blood, plaque, speckles, saliva, hair, nails, cartilage, amniotic fluid and other tissues from human.
Amplified alleles included in the kit with their typing results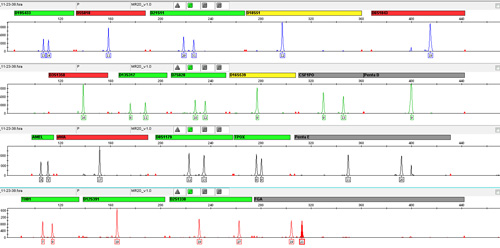 Product size and part number
10403020/200 reactions
10302022/5-matrix