MW-AP32/48(AP-32/48)
MW-AP32/48(AP-32/48)proves magnetic particle-based technology to provide high-quality target nucleic acids. AP-32/48 can purify 48 or 32 samples at a time within 30 minutes, depending on sample volume. With new 7‑inch super retina screen and editable protocols, we can finish extraction of low amount nucleic acid samples.
Implementation with other Microreader™ Forensic DNA Isolation Kit, nucleic acid is extraction from a variety of human sample type.
Features
Reliable—undergoes a rigorous refurbishment process to make sure it's up to high standards before put up
Fast—high-quality yields of target nucleic acids within 30 minutes.
Convenience—new 7‑inch super retina screen enables the flex to interface with operation and status reports, providing a fully automated solution and the highest possible throughput
Compatibility—compatible with open-platform systems, users can customize with software to create your own protocols for more than 200
Prevention of contamination—closed system and built-in UV lamp that minimizes the risk of contamination and transposition errors
After-sale guarantee—all hardware and software support about AP-32/48 comes with a one-year limited warranty. And products give you one-stop service and support from microread experts, so most issues can be resolved in a single call.
Beautiful appearance
—small volume, much use, customer experience increases
Specification parameter
Number of processing—purify 48 or 32 samples at a time
Volume of processing—dispensing volume range of 20-1000ul
Heat block temperature—varies from ambient temperature to 80℃
Vortexing frequency mode—three staus (low middle high)
Operating interface features—interface graphics, bilingual in Chinese and English, new 7‑inch super retina screen
Type of sample—a variety of human sample type (particle-based)
Program setup—flexible system for wide variety of applications
Way of decontamination
—uv lamp (editable time )
Product size and part number sheet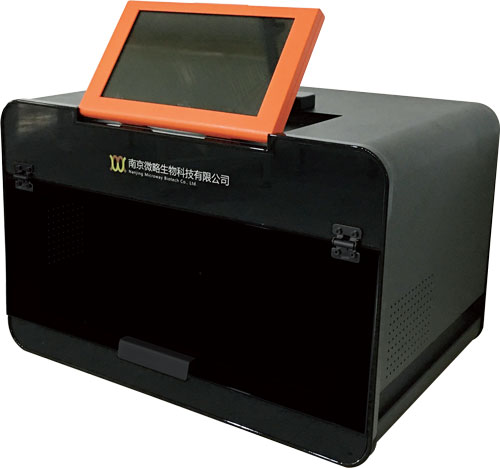 | | | |
| --- | --- | --- |
| Product Insert sheet | Part | Part no. |
| Microway™ MW-AP32 | 32 lane | 10601001 |
| Microway™ MW-AP48 | 48 lane | 10601002 |